How it works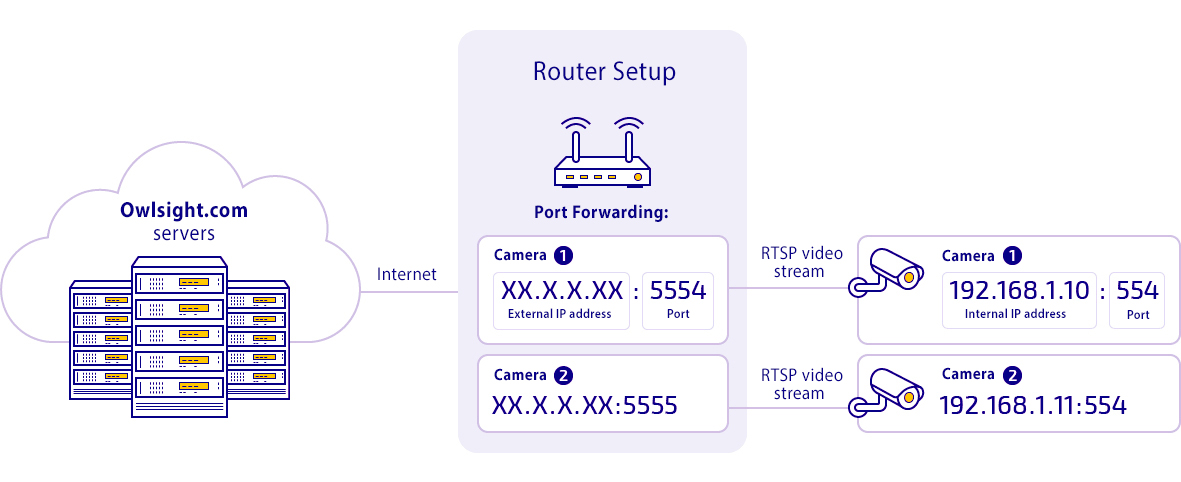 To organize video surveillance using the OwlSight service, you will need:
The required number of IP cameras or cameras connected to DVR that support streaming video transmission via RTSP protocol using the H264* video compression standard.
Connect cameras / DVR to a local area network with Internet access that has a static public IP address (ХХ.Х.Х.ХХ), or use any service that provides a dynamic DNS service. Often this feature is already built into the router software.
Determine the type of URL by which the camera sends the RTSP stream. Usually it has the following structure:

The additional characteristics in RTSP link may vary depending on the camera model you use. You can find the information about it in the camera instructions or on the Internet. Use VLC mediaplayer or similar programs for testing RTSP link.

To provide"owlsight.com" servers access to your camera, you should configure the port forwarding setting on your router(an example of the port forwarding setting).
Thus, when making a request to a link of the form ХХХ.Х.Х.ХХ: 5554, it will be redirected to the equipment (camera) located on your local network at 192.168.1.10:554, and the RTSP link of the stream from your camera for Access from the Internet will be:
Create an account on Owlsight.com and connect cameras (equipment) to your account following the instructions of the installation wizard.
After successful connecting and testing the camera / equipment, you can organize limited access from the Internet to the RTSP port of cameras and / or equipment, allowing access to them only from the network 185.201.169.0/24 (all owlsihgt servers are on this network).
Use the Owlsight.com video surveillance service.
---
*
For best performance, you should limit the transmitted streaming video to 10 fps (or less), and the quality of the transmitted video FullHD (or less)